Css Templates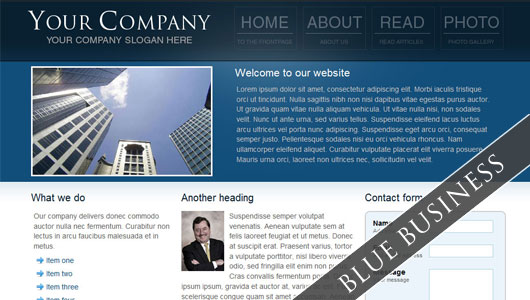 Buy website templates for a low price. Small adjustments is included in the price (e.g changing the text in the psd file, saving it as jpg, and send it to the customer). Some of the website templates also have a free version available for download (psd file is not included in the free version). Our webdesign makes it fast and affordable to set up a professional web site. Please, do not hesitate to make contact if you have any questions, you can use the online form here. All payments is done with , which accepts all major creditcards.

Fashion Magazine
Ajax included
A very cool website with ajax effects.
By clicking on the menu, the content will scroll sideways, no flickering, very smooth.
Frontpage, newspage, contactform and imagegallery is made, ready to use.
The imagegallery is also with ajax.
LIVE DEMO

Gift Shop
Valid xhtml 1.0 transitional
Valid css 2.1
Gift shop css template
Get online and start selling your products with this nice template. Also works perfectly as a personal site.
Very nice menu
PSD file included
LIVE DEMO
Forest Zen
Valid xhtml 1.0 strict & css 2.1
This is a beautiful css template, with nice colors and menus
Can be used in many different settings
Easy to edit both the psd and html files
PSD files included in the full version
LIVE DEMO

Passion Restaurant
Valid xhtml 1.0 Transitional
Valid css 2.1
Restaurant template
Ideal for people who wants a new layout for their restaurant
Easy to change the psd and html to make it fit to something else than a restaurant
PSD file included
LIVE DEMO

Football Pub
Valid xhtml 1.0 strict
Valid css 2.1
A great football css template
This will fit for any football/soccer pub, soccer clubs or soccer blog
Very fresh color and design
A vertical scrollbar will appear if the text goes further down inside the content-box
Easy to edit
PSD file included
LIVE DEMO